Our Philosophy
Our Mission Statement
It is the mission of Bob Ledford's Adventure Motorhomes:
To become the recognized leader in the southeast for RV sales and service.
To exceed the expectations of our customers in sales, service, quality and value.
To earn long-term loyalty by delivering more than we promise, in a fair and honest business manner.
To provide a large selection, quality products, professional service & competitive prices.
Our Vision
It is our company's vision:
To create fun experiences and lifetime memories by helping our customers learn about & enjoy the many opportunities recreational vehicles can provide.
Code of Ethics
Since the early 1950's we have helped thousands of customers find that perfect RV. We work hard to satisfy our customers and stand by our code of ethics. We:
Act honestly, fairly and with the utmost good faith and integrity.
Communicate all material facts, and ensure our products and services are fully and fairly represented.
Only provide or offer those services that we are competent to perform by virtue of training and experience.
Promote public confidence through knowledge and skill and treat all people with equality, dignity and respect.
Abide by all applicable laws and regulations and never knowingly do business with those operating outside these laws.
Promote and advertise our products and services in a clear and honest manner without misleading, confusing or deceiving the customer.
Fulfill all contractual obligations promptly and completely, and resolve legitimate claims without delay.
Engage in fair and open competition by positively promoting our products services and business methods without attacking those of our competitors.
Treat all personal and financial information we receive in the strictest of confidence and use only for the purpose for which it was originally received.
Remain committed to continual improvement throughout our organization.
Awards
We are pleased to have been recognized by the Statistical Survey's Inc. of Grand Rapids, Michigan for:
No 1 Dealer of Fifth Wheels for the State of South Carolina in 2012.
No 1 Dealer of All Recreational Vehicles for the State of South Carolina in 2012.
No 1 Dealer of Travel Trailers for the State of South Carolina in 2012.
No 1 Dealer of Class C vehicles for the State of South Carolina in 2012.
No 1 Dealer of all MT and Class B vehicles for the State of South Carolina in 2012.
No 1 Dealer of RV-MT for the State of South Carolina in 2012.
No 1 volume Upstate dealer for the State of South Carolina in 2012.
Number one seller of CAMCO parts in the nation, including the Internet, 2013.
Environmental Policy Statement
Bob Ledford's Adventure Motorhomes is committed to leading the RV industry in minimizing the impact of its activities on the environment. The key points of its strategy to achieve this are:
Minimize waste by evaluating operations and ensuring they are as efficient as possible.
Minimize vehicle emissions through the selection and use of its fleet and the source of its power requirement.
Actively promote recycling; both internally and amongst manufacturers, customers and suppliers.
Source and promote environmentally friendly products to minimize environmental impacts.
Meet or exceed all the environmental legislation that relates to the company.
Implement a training program for staff to raise awareness of environmental issues and enlist support in improving the company's performance.
Minimize impacts to human health and the environment throughout the company by continual improvement.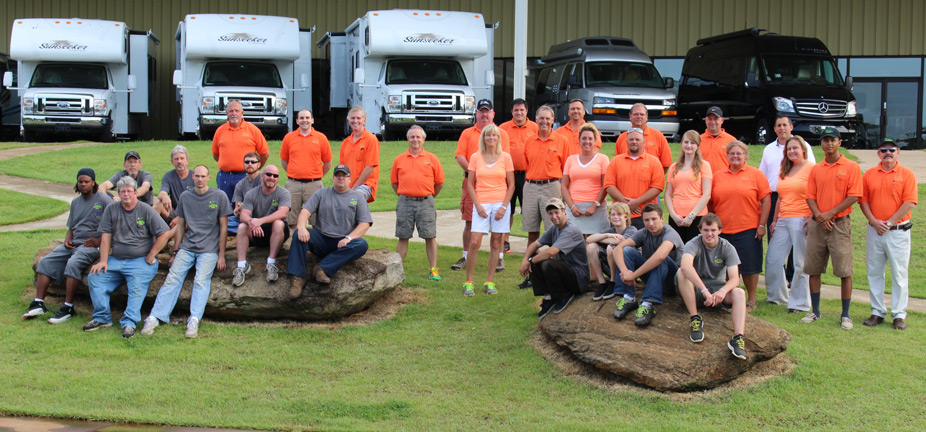 2014 Bob Ledford's Adventure Motorhomes
contact us